Remote Cloud
Backup
Upload video clips to the cloud for safe keeping and share them via email
Clear Video
Day or Night
Professional quality cameras reliably provide clear video
Connect Multiple
Systems
See video from your home, beach condo or office; across town or around the world
Manage
Users
Manage your family and friend's access to your recorders from the web
Easy Remote
Viewing
View your video from anywhere on a mobile device or web browser
Cyber
Secure
Military-grade encryption keeps your data safe and secure
DIY
Friendly
Save money on installation with single cable installation and plug-and-play setup
Pro Team
Support
Free support for the life of your system! Need help? Call the Pro Team!
Remote Monitoring
See that your children are home safe from school, or when a package is delivered to your door. Keep an eye on your business when you're away, at home or around the world! With free remote viewing apps, you can see your AvertX HD video whenever and wherever you need it.
Pet Monitoring
Make sure the dog stays off the couch and see when the cat comes and goes. Or just check in with the pets when you need a smile! Admit it, you've always wanted your own puppy cam!
Apple TV Support for Home Viewing
The AvertX ProConnect Apple TV app allows you to display live video from your ProConnect recorder from the comfort of your living room or anywhere you have an Apple TV. Securely install your recorder anywhere in your home or business and easily view live video on any TV without the hassle or complexity of running an HDMI cable from your recorder.
*Requires 4th Generation Apple TV
Future Proof Your Investment: Automated Software Updates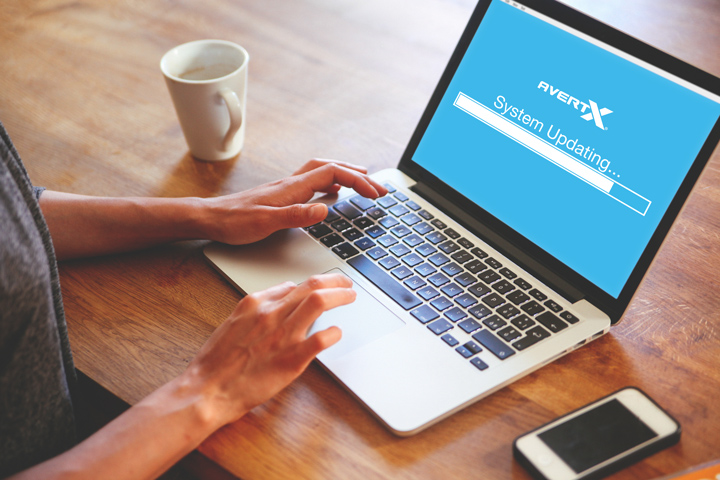 The most important part of your video security system investment is the software that powers it. AvertX is constantly developing the ProConnect platform, so you will benefit from new features, improved performance, and cybersecurity updates for years to come and without a hidden subscription fee. When a new update is released you are notified and can apply the update with a single click of a button. Recent updates have added mobile support for two-way audio, fisheye camera dewarping, and automatically setting strong, unique camera passwords.
AvertX PRO Team
We have a professional to help you in every step of the process. Need help designing and selecting the right recorder and cameras? Call our PRO Team. Need help with setup? Call our PRO Team. Our PRO Team is here to help for the life of your system! Call us at 855-228-3789