Apple TV Support for Home Viewing
The AvertX ProConnect Apple TV app allows you to display live video from your ProConnect recorder from the comfort of your living room or anywhere you have an Apple TV. Securely install your recorder anywhere in your home or business and easily view live video on any TV without the hassle or complexity of running an HDMI cable from your recorder.
*Requires 4th Generation Apple TV
Remote Controlled Autofocus Zoom Lenses
AvertX cameras equipped with zoom lenses allow you to adjust the view and focus of your camera remotely without ever needing to climb a ladder. A fixed lens camera's view is limited by how close or far it is from the targeted area. The HD838 Dome Camera with its 4x optical zoom gives you more choices for camera placement and to zoom in on what's important to you. Once you have the view you want, autofocus gives you the sharpest picture possible.
On-board microSD Video Backup
AvertX Cameras feature a microSD card slot as an added layer of redundancy and backup. Once you add a microSD card, the camera will record directly to the internal storage on the card, making sure you always have video. If your recorder is stolen or fails, you can pull video directly from the camera's microSD card and never miss an important event!
Reliable Operation in Extreme Cold Temperatures
Onboard heating is included on most cameras to allow operation in below zero temperatures experienced in many parts of the US and Canada
Black Paintable Snap-on Cover
AvertX includes an extra paintable cover with most dome cameras, allowing you to match your cameras to the environment being installed in for aesthetic or security reasons.
IP66 Rated Waterproof Camera Connectors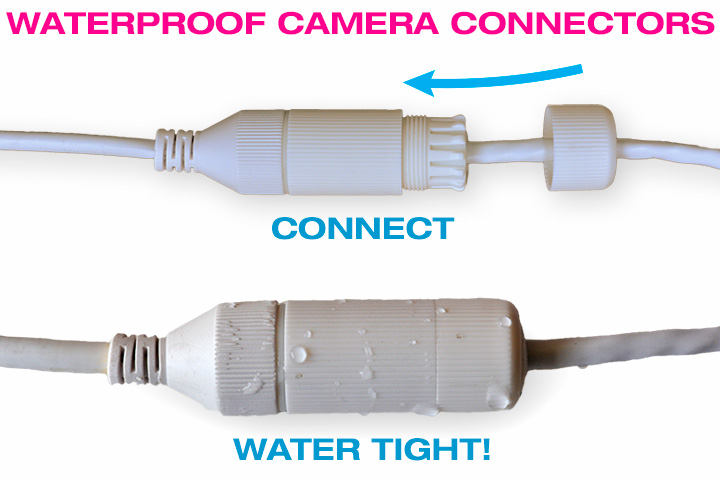 Additional IP66 cable connecting hardware is included with cameras to create a professional, waterproof seal and eliminate failure due to cable corrosion or accidental disconnect.