​How to add AvertX HD320, HD420, HD428, HD820, HD828 and HD920 cameras through an external POE switch connected to a ProConnect NVR
An external POE switch can increase the total number of cameras that can be added or are licensed per NVR on A800+ and A1600+ models. On all other AvertX recorders, a 16-channel NVR can only manage 16 total cameras, and an 8-channel only 8 cameras.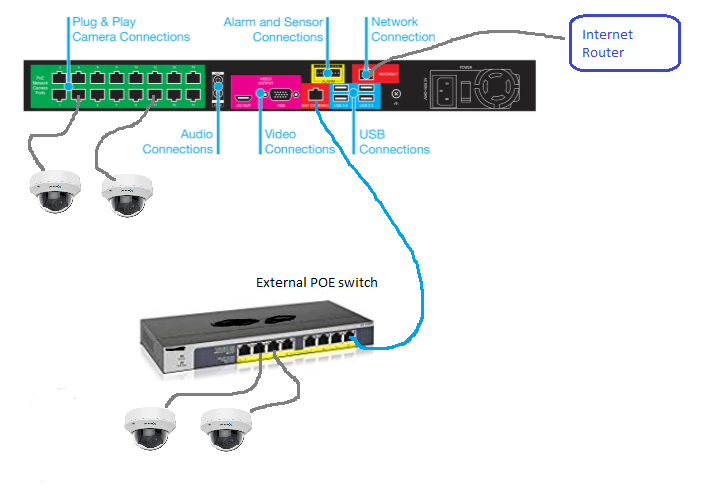 1. Connect a POE switch to the Ext. Switch port on the back of the NVR. Turn it on.
2. Log into the ProConnect NVR, and go to Setup>Networking>Adapters>Ext Switch
3. Double-click on Ext-Switch. Select the Static IP Address button
4. Ensure IP Address value is 192.168.51.1
5. Ensure Subnet Mask value is 255.255.255.0
6. Connect the camera(s) to a camera port on the back of the NVR.
7. Allow the NVR time to auto-add the camera – this may take a few minutes.
Note: If the cameras don't appear after a few minutes, go to Setup>Cameras>Add Cameras. Click add, select the cameras, and save. Click on Live and wait a few minutes. Return to Setup>Cameras to ensure they were added. If this doesn't work, contact AvertX Tech Support.
8. Once cameras are present in the Camera menu, find the camera you wish to move to the external POE switch, double-click on it, and write down the MAC Address found in the General tab under Camera Information.
9. Click on the IP Address link, and log into the camera (account: admin / password: 1234).
10. Go to Setup>Network>Network menu and change the DHCP/Static pulldown option to Static.
11. Change the IP Address to 192.168.51.X (where X is a number between 10-250, unique to each additional camera being assigned to the external POE switch).
12. Ensure the Subnet Mask is 255.255.255.0
13. Change the Default Gateway to 192.168.51.1
14. Be sure you've assigned the correct IP address corresponding to the camera. Check settings to make sure they are correctly entered, and click on the Save button below.
15. Detach the camera from the camera port of the NVR.
16. Go to Setup>Cameras> menu. Find the camera you've changed the IP address for and click on the X found on the far right of the menu entry to delete/remove the camera.
17. Physically attach the camera to a port on the POE switch from Step 1.
18. To add more cameras, repeat from Step 6.