​How to add AvertX HD320, HD420, HD428, HD438, HD820, HD828, HD838 and HD920 cameras through an external POE switch connected to a ProConnect NVR
An external POE switch can increase the total number of cameras that can be added or are licensed per NVR on A800+ and A1600+ models. On all other AvertX recorders, a 16-channel NVR can only manage 16 total cameras, and an 8-channel only 8 cameras.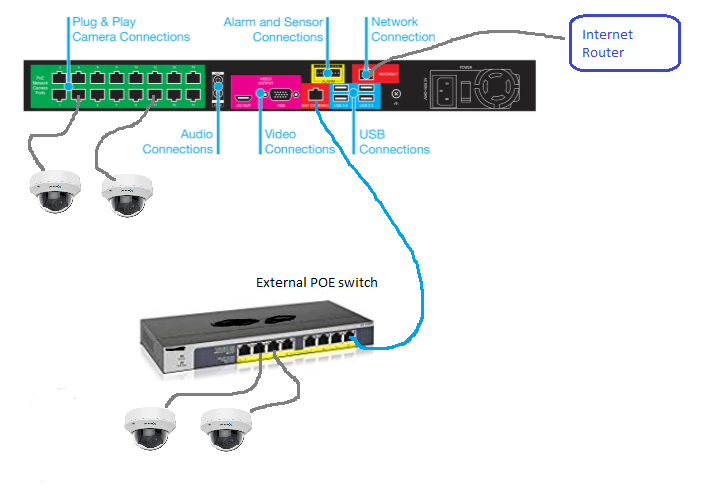 1. Connect a POE switch to the Ext. Switch port on the back of the NVR. Make sure the switch is powered on.
2. Go to Setup>Networking>Adapters>Ext Switch:
a. Set IP address to Static: 192.168.51.1
b. Subnet Mask to 255.255.255.0
c. Save. Unit may restart to accommodate change.
3. Connect the camera(s) to the external switch. Allow the camera at least 90 seconds to power on.
4. While the cameras are powering up, find the MAC address for each camera connected to the external switch.
NOTE: The MAC address can be found on the camera box label, as well as the product label on the camera.
5. Go to Setup > Cameras and click on Advanced at the top of the window. This will open the Network Camera Manager utility.
6. Once all cameras have been connected for at least 90 seconds, click on Refresh on the right side of the window.
7. Locate the first camera you would like to add by finding the MAC address in the list; you can also use the Find MAC search option by typing in the last 4 characters of the MAC address and clicking Find.
8. Once you have located the desired camera, select the checkbox next to the model for that camera.
9. With the checkbox selected, click in the IP Address box in the Network Configuration section at the bottom. Enter the first IP address of 192.168.51.11.
NOTE: The IP address should increase by one for each camera. (The next camera's IP address will be 192.168.51.12)
10. Enter the Subnet Mask: 255.255.255.0 (This stays the same for all cameras)
11. Enter the Default Gateway: 192.168.51.1 (This stays the same for all cameras)
12. Enter the DNS: 192.168.51.1 (This stays the same for all cameras)
13. Click Apply.
14. Repeat steps 7 through 13 to add additional cameras, ensuring each has a unique IP address.
15. After you have assigned an IP address to all desired cameras, close the Network Camera Manager utility.
16. On the cameras page, select Add Cameras.
17. Select the cameras which you have just assigned an IP address and click Add Selected Cameras.